Song of the Day: Malibu
Today's song is Malibu by DD Walker.
Surf Pop.
I enjoy the speed of this track. The directness of this song jams itself into my brain and I like the tone.
The lyrics are nice, but the instrumental backing keeps an excellent pace.

I was ready, to slip underneath.
I was ready, to float to sea and go to sleep.

Pay attention to the synth elements. Then dial your focus into ONLY the drums. You'll have an interesting time.

This is one of those tracks that runs right at you, and that urgent type of contact is pleasant.
My favorite point is where the song explores the space just for the drums to launch right back in. You'll recognize it.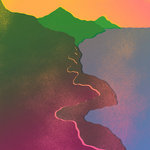 ______________________
Click here for the full YouTube playlist (of all of the song's I've talked about).
I've talked about hundreds of them, so you're bound to find something entertaining.