Song of the Day: Fruit Salad
Today's song is Fruit Salad by Tom Cardy.
Indie/Comedy
You know it's a jam when the cow-bell gets brought out.
This is one of Cardy's less-popular tracks, and it shouldn't be.
The musical effort on display here (even if the song's subject is ridiculous) is phenomenal.

Sweetness of fruit, variety of salad.
Ooh fruit salad you're the best of both worlds.

That whole melodic hook (the synth) is just gorgeous.
All the layers combine in that minute and it's excellent.

I particularity like the drumming that jumps in.
Pay attention to the opening. You really see exactly how it builds to that explosion of sound.
The whole album is excellent (and I highly recommend several of the songs there).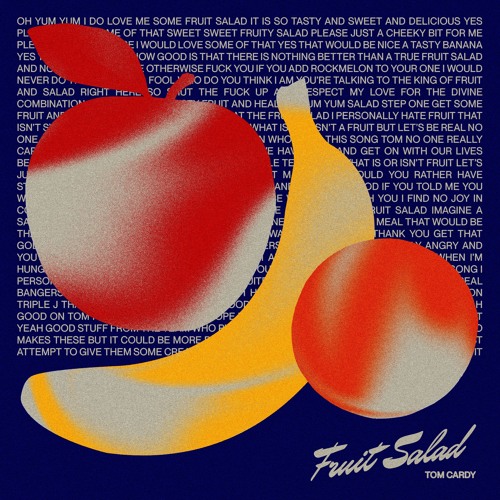 ______________________
Click here for the full YouTube playlist (of all of the song's I've talked about).
I've talked about hundreds of them, so you're bound to find something entertaining.